Kenneth Flynn
Cocky, hot-blooded, and irascible, Kenneth quickly rose from soldier to the rank of Prince of the South using a combination of guile, obstinacy, and sheer dumb luck. His short stature may be the cause for his equally short temper.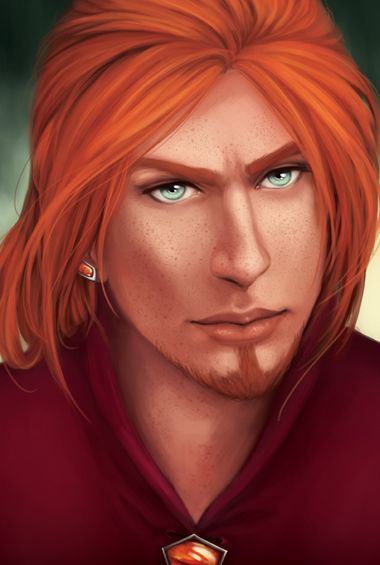 Author: Abyrae
Race: Human
Gender: Male
Age: 28
Date of Birth: 4th day of Vedna, 1671 (March 23rd, 1671)
Place of Origin: Yunon, Alont
Height: 5'3 1/2" (161.3 cm)
Weight: Around 140 lbs (63.5 kg)
Hair Color: Ginger
Eye Color: Greenish gray
Occupation: Prince of the South
Nickname(s): Ken, Carrot-top, Freckles
Appears In: Serenis
Theme: Forthcoming
Biography
Forthcoming.
Personality
Forthcoming.
Skills and Abilities
Combat: Kenneth has been taught in the use of various forms of combat, both armed and unarmed. He excels at using daggers both for close combat and as projectiles.
Special Items
Alontian Prince uniform (field): It consists of a grey long-sleeved shirt with black pants, black tall boots, a maroon high-collared sleeveless jerkin, a silver and agate shield-shaped medallion worn clasped at the jerkin's collar, and a pair of silver and agate ear cuffs.
Alontian Prince uniform (dress): The dress uniform is similar to the field uniform, except it is made of nicer fabrics, the pants are white, and the jerkin has been replaced by a long-sleeved white coat adorned with maroon trims and aiguillettes.
Alontian Prince medallion: As Prince of the South, Kenneth's medallion is set with a fire agate cabochon.
Daggers: He seems to have an endless supply of them. More so than Takara.
Spoiler Information
Return to Author's Page.
Image courtesy of Jennifer Cant.